We've had our playroom slash guest room for over a month and I still haven't shared my plans for it. And believe me, I have plans. Too many plans. I've got so many ideas that I haven't gotten very far. And now that we've been temporarily transplanted to Chicago, all I can do is think about the playroom's untapped potential. So here's a post full of playroom inspiration.Can't wait to tackle some of these projects!

 Where should I start? How about the color palette:
I'm going for lots of pattern. And a bit texture. And fun!
And lots of color. Perhaps a smidge girly, but mostly gender nuetral. I'm going for primarily orange, purple, green and navy. Those other colors will be there, just less. (This color palette was created with Adobe Kuler, btw.)
From there, the vision gets a lot less vivid. What would you think of an ombre accent wall?
I saw this laundry room in Lowes Creative Ideas and thought a blended paint treatment would be brilliant for a playroom. Then again… maybe it's too much. especially if I go ahead and make these awesome horizontal striped curtains (which I've already purchased the fabric for.)
(from http://www.theyellowcapecod.com/2011/01/bold-striped-diy-drapes.html.
Speaking of fabric… I am super inspired by these diy fabric wall decals. The possibilities are endless!
http://sewingforscarlett.blogspot.com/2010/02/tutorial-fabric-wall-decal.html, http://www.apartmenttherapy.com/cooper-campbells-cool-vintagek-139542, http://ginnyphillipsphotography.com/blog/
But would that compete with brightly painted doors? Look at that yellow door (from this toy story inspired room!) It's delicious!
http://www.scenicoasis.com/portfolio/our-portfolio/scenery/general-interior-sets.html
Let's talk art. I definitely want a place to display my progeny's works of art. I could go with something like this:
or something less formal… Like this:
http://www.spearmintbaby.com/2011/07/ten-creative-ways-to-display-childrens-art/
or this:
Or I could go another dirction and to this (which is just about the coolest gallery wall I've ever seen!)
http://www.spearmintbaby.com/2011/07/ten-creative-ways-to-display-childrens-art/
But then again, I saw this image and kind of fell in love with the idea of framing old school game boards.
http://www.apartmenttherapy.com/displaying-game-boardsinfarran-149687
And what about the cieling? No playroom is complete without something special hanging from the cieling.
I love, love, love(, love!) The idea of hanging a few globes or birdcages from the ceiling.
http://jonesdesigncompany.com/
Or maybe just a simple paper chandy will do.
And then there is this ah-maz-ing rug (from
CB2
) for the floor. And it's totally diy-able, no?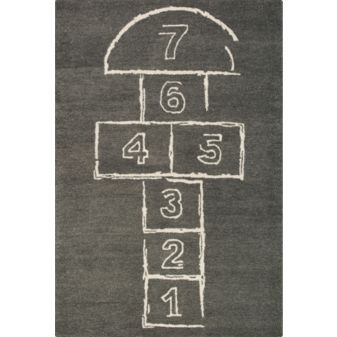 Now lets talk playroom content. We've already got a toy shelf and an in-need-of-a-bit-of-sandpaper-and paint-love play table, but what else? How about a swing? Or a slide?
And, of course, no modern playroom is complete without a teepee!
Ahh, my brain is buzzing with excitement! So many possibilities! Believe or not, there's a few more ideas, but I'm not sure this post can handle anymore. All this and more is on my
Inspired: Playroom board on Pinterest
if you want to be inspired yourself, in a less wordy format.
Some projects I've already started, others won't make the cut. Some I'll plan for but just won't get around to getting done. Some may get started and but never finished. We'll just see where this party goes…. What are your favorites? I think I am in love with that rug! What do you think gives playroom that slightly over the top magical feeling? Help me out!